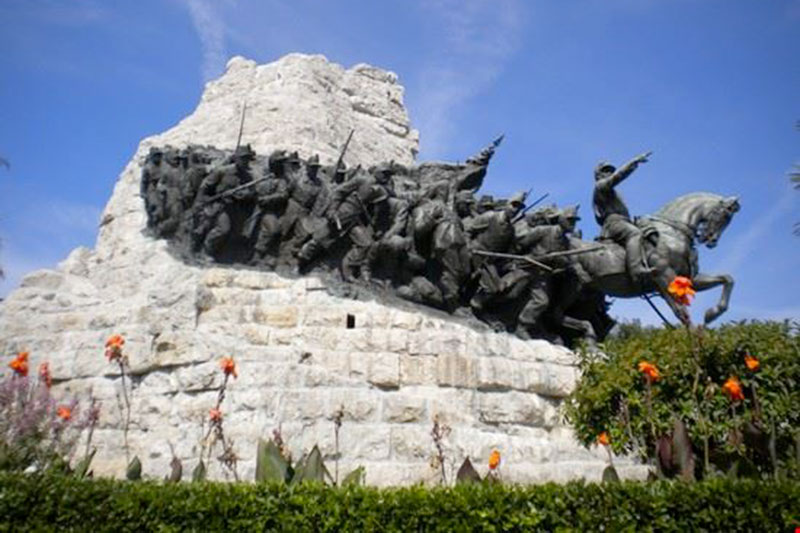 THE HOMELAND OF THE ACCORDION
Distance from Sirolo: 11 km. Leave Sirolo towards the A14 motorway. Go on for about 5 km, then turn right and follow the road signs indicating Castelfidardo.
The entrance to the city is through Porta del Cassero; following the walls you can reach Porta Vittoria, called Porta Marina because it looks towards the Adriatic Sea. The "Giardini di Porta Marina" are situated near the entrance where you can admire a fantastic view and the wonderful park which houses the Monumento Nazionale delle Marche, built in memory of the historical battle of Castelfidardo in 1860, when the Piedmonteses won against the Papal army.
It is a huge, bronze work by Vito Pardo formed by a six-metre high statue of the General Cialdini. You can enter the city through Porta Vittoria; the Corso XX Settembre leads to the Piazza della Repubblica where the ancient Palazzo dei Priori, now called Palazzo Comunale, is situated; it was rebuilt in 1780.
The bell-tower is to be admired; moreover, you can visit the prison, the torture room in the subterranean floor, three decorated ceilings dating back to the nineteenth century, the Salone degli Stemmi (Coat of Arms Room) and, in the basement, the famous Museo Internazionale della Fisarmonica (The International Museum of the Accordion); it houses documents and mementoes linked to the story of this musical instrument. For more than one century, Castelfidardo has been the first worldwide centre in producing accordions.
In front of the Palazzo Comunale, the Chiesa Collegiata, dating back to the year1000, is located. From the Piazza della Repubblica you can reach the Palazzo Mordini which houses the Museo del Risorgimento, the municipal library and the historical archive. Furthermore, there is the Chiesa di San Francesco, designed by a follower of Vanvitelli. In front of it, one may visit the Chiesetta S. Maria della Misericordia with a valuable floor dating back to the sixteenth century. Finally, one may visit the Monastery and the Chiesa di San Benedetto. Exit the historical centre towards Porta del Sole, called Porta dei Bersaglieri.