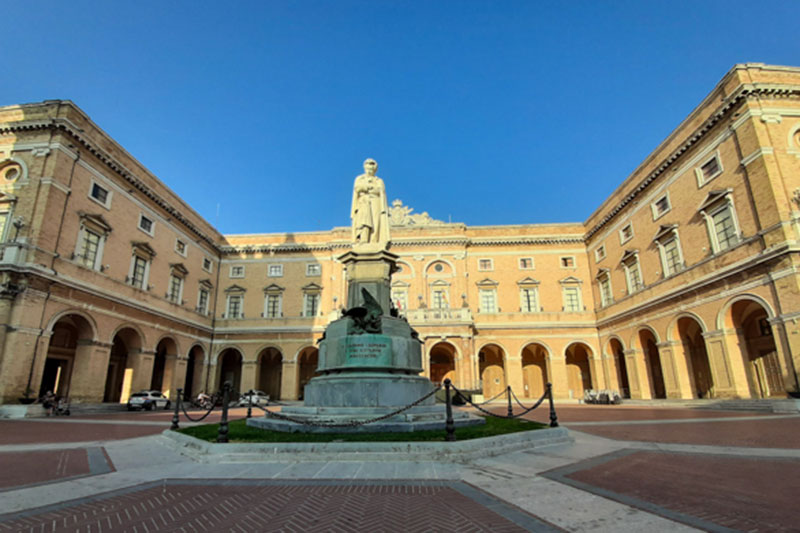 THE BIRTHPLACE OF GIACOMO LEOPARDI AND HIS POETRY
Distance from Sirolo: 19 km. Leave Sirolo towards Numana. Go on towards Marcelli; at the roundabout turn at the first exit towards the SS16. As soon as you reach the SS16, turn left southwards (Loreto); after the entrance of the A14 motorway, before Porto Recanati, turn right and follow the road signs indicating Recanati.
Recanati is Giacomo Leopardi's birthplace. We advise you to start visiting the city from the central Piazza Leopardi, flanked, on the left side, with the 36 metre high Torre del Borgo (XII century) and with the monument dedicated to Leopardi; on the background, you can see Palazzo Comunale which houses, on the top floor, the Museo Beniamino Gigli where mementoes, costumes, photos and stage objects of the famous tenor coming from Recanati are preserved. In the Palazzo Comunale, also the Museo della Chitarra (Guitar museum) is worth mentioning; it is dedicated to the founder of EKO, a famous brand of guitars, used by several music bands. On the southern side of the square, the Romanesque Chiesa di S. Domenico is situated. It was rebuilt in the fourteenth century. The suggested route leads to the eighteenth-century Palazzo Leopardi, where the poet was born; now, it is inhabited by his descendants, in the square called "Sabato del Villaggio". The precious library preserving original objects and manuscripts of the poet is noteworthy. From Leopardi's house, follow the road signs indicating the Monte Tabor, the famous "colle dell'infinito" (the hill mentioned in a famous poem) where you can admire a beautiful view. Coming back to the Palazzo Leopardi, reach Via Roma which is divided into two roads at its end: Via Calcagni and Via Cavour; along this street the Chiesa di Sant'Agostino deserves to
be visited: the bell-tower is the Torre antica (the ancient tower) mentioned in the poem "Passero Solitario". Coming back towards the city centre, Piazza Leopardi, go along Corso Persiani; its last part leads to the Cattedrale (Cathedral). Near the cathedral, where the Museo Diocesano is situated, you can see Villa Colloredo Mels; it is the seat of the Pinacoteca Civica where the famous "Annunciazione" by Lorenzo Lotto is preserved.